How is the pandemic affecting the way people pay?
The recent Logica Future of Money snapshot reports on income, savings and debt and brand engagement show Americans making necessary changes to address the impact of the novel coronavirus on their financial situation. Behavioral changes, like mobile banking and an increased focus on savings, are anticipated to last beyond the pandemic. In this fourth wave of research, we take a closer look at the payment behavioral changes seen in the time of COVID-19 that impact the way customers make purchases.
During this unprecedented period, we are seeing a shift in the way Americans pay for their purchases. For in-person purchases, the shift is away from cash and more toward debit card payments as people seek to reduce contact with cashiers and the potential for cash-based transfer of the virus. With online purchases increasing, we are also seeing an increase in credit card and debit card payments. Some Americans are taking advantage of installment credit at check out and peer-to-peer payments as well. There is an accelerated usage of digital payments, as well as a generational shift as younger generations teach their elders to use these new payment methods.
Some key findings from this wave of our study include:
More Americans used their debit card to pay for their last in-person purchase compared to the fall of 2019 (36% vs. 31%), while fewer used cash (22% vs. 25%).
For online purchases, debit card usage increased from the fall of 2019 (30% vs. 25%) and credit card usage is slightly up (36% vs. 34%).
About one in ten Americans are using installment credit options like PayPal Credit more now than before COVID-19, led by the younger generations.
And almost one in five are using peer-to-peer payments more now than before COVID-19, again with younger generations leading the way.
In this segment of the Future of Money study, partner KNow Research conducted qualitative in-depth dyad interviews to gain additional insights into Americans' financial experiences right now and to highlight study participants' stories on how COVID-19 has impacted them financially. One mom and daughter team are helping their elderly neighbors get groceries and teaching them how to use Venmo to reimburse them.
"I use Venmo a lot more now. The younger people use it. You're dealing with them and they're comfortable with that… My neighbors and I go shopping for each other and it's easier to get repaid with Venmo." —Mom, New York
Americans are shifting toward debit and away from cash for in-person payments:
Americans are shifting slightly toward cards for online payments: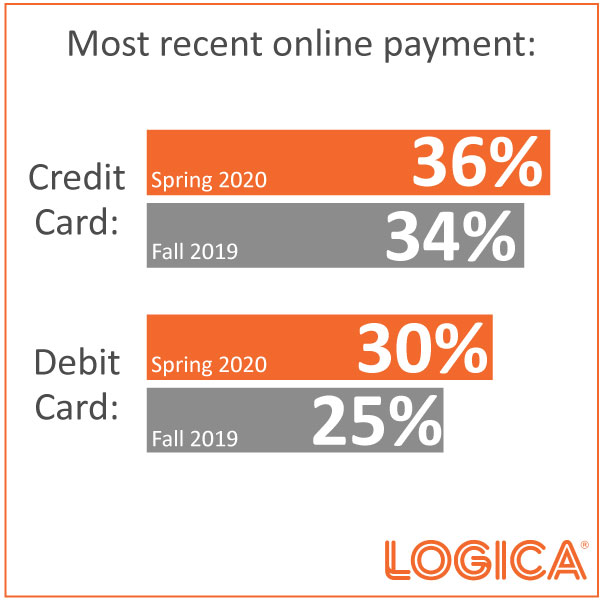 Americans (9%) are shifting their usage of online buy now/pay later and installment credit:

P2P is on the rise in America, especially among younger generations:

Key Takeaways
Americans are changing how they pay for things in stores and online.
The coronavirus pandemic is accelerating the transition to a cashless society.
Younger people are adopting changes at a faster pace, though some are teaching older generations.
To hear more about the study, what's coming up, and schedule time for a full presentation, email lraynor@logicaresearch.com. Check out our previous snapshot reports on income, on savings and debt, on banking behavior.
About the Logica Research Future of Money Study
The Future of Money Study is designed to provide insights to organizations to help improve people's financial lives. Logica Research has been conducting the semi-annual Future of Money Study since the Spring of 2017. The focus of the study is to understand the consumer mindset around how people make, spend, save, and invest money. This Spring 2020 study included partnership with KNow Research, who added their qualitative expertise and conducted in-depth dyads to help bring Americans' stories during the time of COVID-19 to life.
The insights are based on an online survey of 1,000 U.S. Adults 18 and over, balanced on gender, income, and generation and 200 older Gen Zers (16-23), not included in total. Results are not weighted. Gen Z defined as age 16-23, Millennials as age 24-39, Gen X as age 40-55, Boomers as age 56-74 for 2020. The study was fielded April 8-13, 2020.