At Logica Research we're passionate about how technology will impact people's financial lives. We designed the Logica Research Future of Money Study to gain insights to help companies improve people's financial lives. In the Spring 2018 wave of our study, Americans tell us that they want technology to make their lives simpler and easier.
Americans are focused on how technology is impacting how we spend our money.
In our Logica Research Future of Money Study of 1,000 general population adults in the U.S., we learn that Americans anticipate that in five years technology will have the greatest impact on how they spend money—more so than on how they make it, save it, or invest it.
Compared to a year ago, Americans' focus on the impact technology will have on spending is on the rise, while their focus on how technology is impacting how we make money has fallen. This marks the second consecutive survey wave in which Americans have said technology will have the biggest impact on how they spend money and is up to 36% from 23% a year prior. Americans anticipate changes in how they spend their money. They tell us that this shift is driven by Americans' increasing use of digital payments (led by PayPal) and heightened interest in cryptocurrencies.
The shift reflects a digital transformation in how we pay and a generation anticipation that more innovation in payments is coming.
Changes in work related to the 'side hustle'.
The vast majority of Americans anticipate that the jobs they do today will exist 5 and 10 years from now. Just 8% of Americans say that their current jobs won't exist 5 years from now. Almost twice as many Americans (15%) believe their jobs won't exist 10 years from now. Although this is a relatively small percentage who anticipate change, it could translate into tens of millions of jobs.
Perhaps the bigger, more immediate transformation in how we work is the participation by Americans in the gig economy. Forty percent of Americans in our survey report that they have a side hustle, which was defined as a job or project you have in addition to your main source of income. It could be a project you do for fun to make extra income, or a way to generate additional income besides your main job. For example, your own business, driving for Uber, AirBnB listing your home/property, or dog walking.
Half (51%) of Americans who report having a part-time or full-time job also say they have a side hustle. Most Americans say they are supplementing their main employment for financial reasons. The top two reasons are related to making additional income. Using this freelance or contract work to pay off credit card debt is particularly important for Millennials, over a quarter (28%) of whom have a side hustle to pay off credit card debt.

For almost a fifth of Americans, the side hustle is about their passion, whether pursuing their dream­ (18%) or using their free time to build something (16%).
Big changes in how we pay.
In our Future of Money Study, Americans continue to tell us that they anticipate a shift from debit cards and cash to digital payment apps for in-person payments. For online payments, digital payments with PayPal are already at the top and are expected to be the number one way to pay 5 years from now. Results from the study also show that Americans are more likely to think that cryptocurrency or a new innovation will take the lead over pre-paid cards, or other payment apps like Google or Apple or Amazon for online payments.
Technology is shifting other aspects of in-person payments. When making a payment, Americans are often directed to swipe, dip, or hover their cards. We looked at interest in contactless payments and found it to be relatively high for a technology that is not yet prevalent in the U.S., with 44% of Americans saying that having contactless payment options is important and 29% preferring to use contactless vs. 51% who prefer inserting/swiping and 20% who don't have a preference.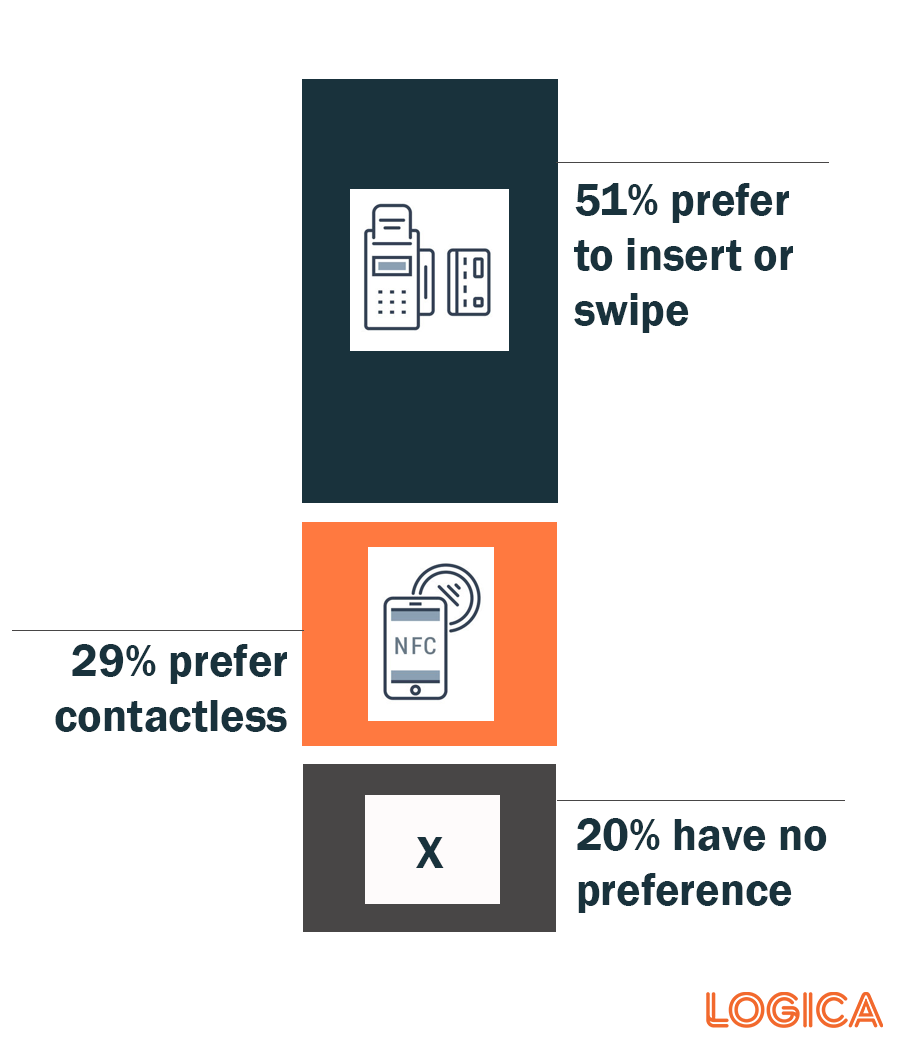 When it comes to saving and investing, digital money management tools are key.
Lots of Americans want help and tools for managing their money, and the technology exists. Millennials are especially interested in tools and assistance that can help them reach their financial goals, manage spending, make good saving and investing decisions and see how they are doing relative to their peers.
"Americans want help achieving their financial goals, and they look to technology to help them. The key here is to help people manage their money and build wealth by providing the tools that link spending with saving and investing," says Lilah Koski, CEO of Logica .
Over three quarters (78%) of Americans report that they are setting aside money for saving or investing, with the plurality (43%) saying they are both saving and investing (27%) vs. 8% who say they are investing only.
PayPal comes back into play when it comes to saving. When asked where they would put an extra $500, 18% say they would put it in a PayPal account. This number increases to 27% for Millennials. Americans consider PayPal as a place to store money. Americans, on average, have more money in their PayPal account than cash in their wallet–$485 in their PayPal account vs. $196 in cash.
Many report that they keep money in their PayPal account because it's easier for them to track their spending or because they just haven't gotten around to transferring it; almost one in five prefer it to keeping money in a bank account.
When it comes to a larger sum of $5,000, Americans would primarily put it in a savings (46%) or investment account (35%), with Boomers more bullish on investment accounts (45%), revealing an opportunity to educate younger generations on the advantages of investing.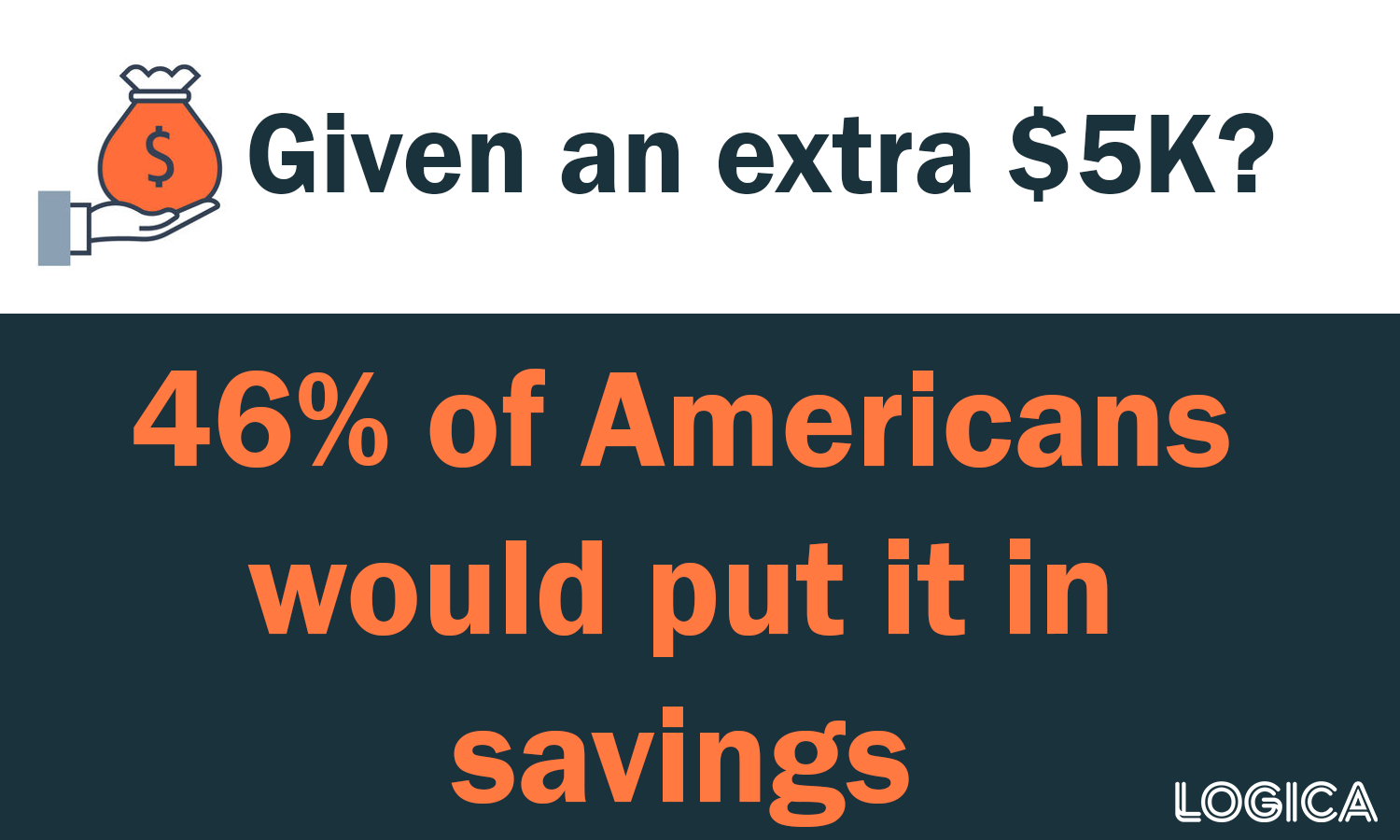 The Takeaway: Americans are embracing financial technology
Technology is impacting how Americans use money, and they are embracing technology.
Payment apps are showing up at the top of the list in how Americans expect to pay for online and in-person payments 5 years from now
1 in 5 PayPal account holders prefer PayPal to a bank account
On average, Americans have over twice as much money in their PayPal accounts as cash in their wallets
When building wealth, Americans are willing to work for their money but need help making their money work for them.
40% of Americans have a side hustle and over half (56%) are doing it for additional income
67% of Americans would use linked accounts to streamline spending, saving, and investing
46% of Americans and 61% of Millennials want push notifications to guide daily financial decisions.
Americans are more likely to say they would save an extra $5k rather than invest it (46% vs. 35%)
About the study
The Logica Research Future of Money Study is designed to provide insights to organizations to help improve people's financial lives. The results reported here are from the Spring 2018 wave. The study is conducted online among 1,000 U.S. General Population Adults 18 and over. The sample is balanced on gender, income, and age. The study includes an augment sample of 200 older Gen Zers (16-19), which is not included in total. Results are not weighted.
About Logica Research
Logica Research creates and delivers customized research designed to help our clients deepen brand engagement, drive awareness and facilitate business growth. Our clients include Fortune 1000 companies and leading marketing and PR agencies.