Is Gen Z investing? We've been keeping our eyes on Gen Z (U.S. ages 16-22) and their financial behaviors since the launch of our Logica Future of Money Study in 2017 when Gen Z was just entering adulthood. In general, we find that Gen Z's financial behaviors are still a blend of their older Millennial siblings and their Gen X parents. This newest generation to enter adulthood is still in the process of developing their own financial identity as they learn how to keep their own budgets, manage payments, save, and invest. And, yes, they are investing: one in five Gen Zers report to us that they are already investing.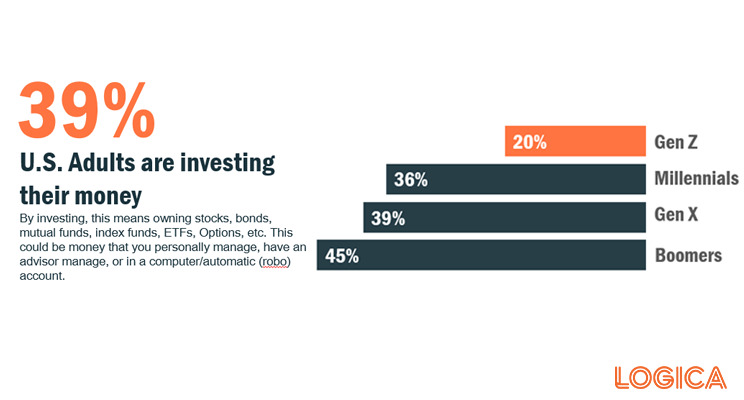 We have seen in our Future of Money Study that Americans are looking for more digital integration across their financial lives. We wanted to understand how investors in different generations view computer-based, automated advice vs. human advice on a variety of service- and performance-related (take out hyphen in both places) aspects of investment advice.
All generations see greater benefit in computer-based or automated advice when it comes to cost and fees.
In contrast, when it comes to understanding investing needs, providing advice people can trust and that is in their best interest, Americans tell us that humans win out. There are no significant differences by generation.
We also have seen a shift in perspective in two areas since 2017. Americans are more likely to say a computer provides better investment performance over time than a human and computers are more likely to take their whole financial situation into account, compared to two years ago.
And where does Gen Z fall on the divide between computer-based vs. human advice? In three key areas, Gen Z leans more toward computers vs. older generations.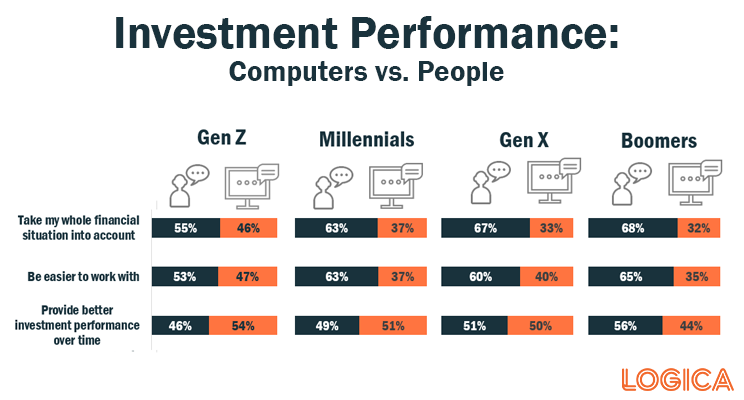 Is Gen Z showing us where the trend is going or are they just showing us what they need? Let us help you improve the financial lives of our newest generation of adults.
The Logica Research Future of Money Study is conducted by Logica Research and is designed to provide insights to organizations to help improve people's financial lives. The study is conducted online among 1,000 U.S. General Population Adults 18 and over. The sample is balanced on gender, income, and age. The study includes an augment sample of 200 older Gen Zers (16-22), which is not included in total. Results are not weighted.