Gen Z, the generation born in the mid-1990s, is going to college and joining the workforce. Members of this generation were born with the internet and have smartphones almost always in hand. They are considered by many to be the true Digital Natives. We've been including the older Gen Zers who are 16-19 years old in our Future of Money Study. We know that they are using digital payments and are interested in digital money management. They also are, or soon will be, saving and investing their money. These teens and young adults have grown up with AI and automation using digital apps and games. Our hypothesis going into this research was that they have a unique perspective on investing. They do.
Investment Knowledge
First, some context on Gen Z and investing. Gen Zers themselves self identify as being at least as knowledgeable about investing as other generations. They either have used the internet's vast resources to educate themselves or could possibly be reporting over confidence. Regardless, Gen Zers are not frightened by investing.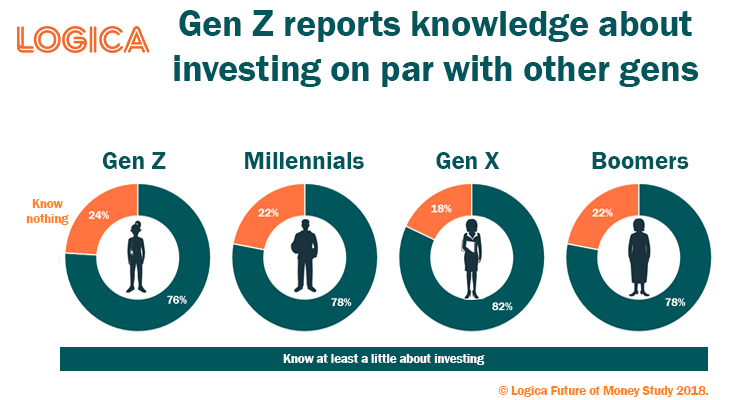 Gen Z and Advisors vs. Algorithms
We wanted to know how Gen Z feels about computer-based algorithms for investing. Gen Z believes that computers can provide better investment performance over time compared to humans. Gen Z, along with Millennials, are also less likely than older generations to say computers will cost less than humans for providing financial advice. And, Gen Z perceives little difference in the ability of humans to consider their overall financial situation compared to computers.
What's Next for Gen Z
More than any other generation, Gen Z gets the power of AI—and they won't hesitate to use it to their advantage when it comes to their money. For financial services companies, this creates an opportunity to provide responsible, computer-based investing to the next generation sooner in their financial lives.
Want to know more about the future of money and Gen Z? Download our ebook here.