Stressed out? Our research shows you're not alone.
Two recent Logica studies point to consumer financial and workplace stress; what can brands do to support a stressed customer?
Understand your customer in times of stress
During today's times and uncertainty, Americans are experiencing high stress and anxiety. While not surprising, it is a trend that is directly affecting consumer behavior and sentiment—especially for those in more precarious economic or financial situations. The "mass trauma" we've experienced as a nation is taking its toll. What brands, businesses and organizations do next can have an impact on consumer well-being.
The first step in taking positive action is to form a deep understanding of exactly what people are going through. Summarized below, our latest Future of Money report and our State of the American Worker study give important insights into stress trends of 2020.

Future of Money: Stress differs based on certain factors
Among other information uncovered by our ongoing Logica Future of Money study, we found that stress differed among people based on metrics such as household income and race. Those with an income below $75,000 per year were significantly more likely (15 percentage points) more likely to be experiencing higher levels of stress. When we look at the results by race, we found that diverse groups were making less money, working fewer hours and were more often short on money than their white counterparts. This corroborates other research, which indicates that "Black and Latino people of all ages, describe rising levels of anxiety and depression."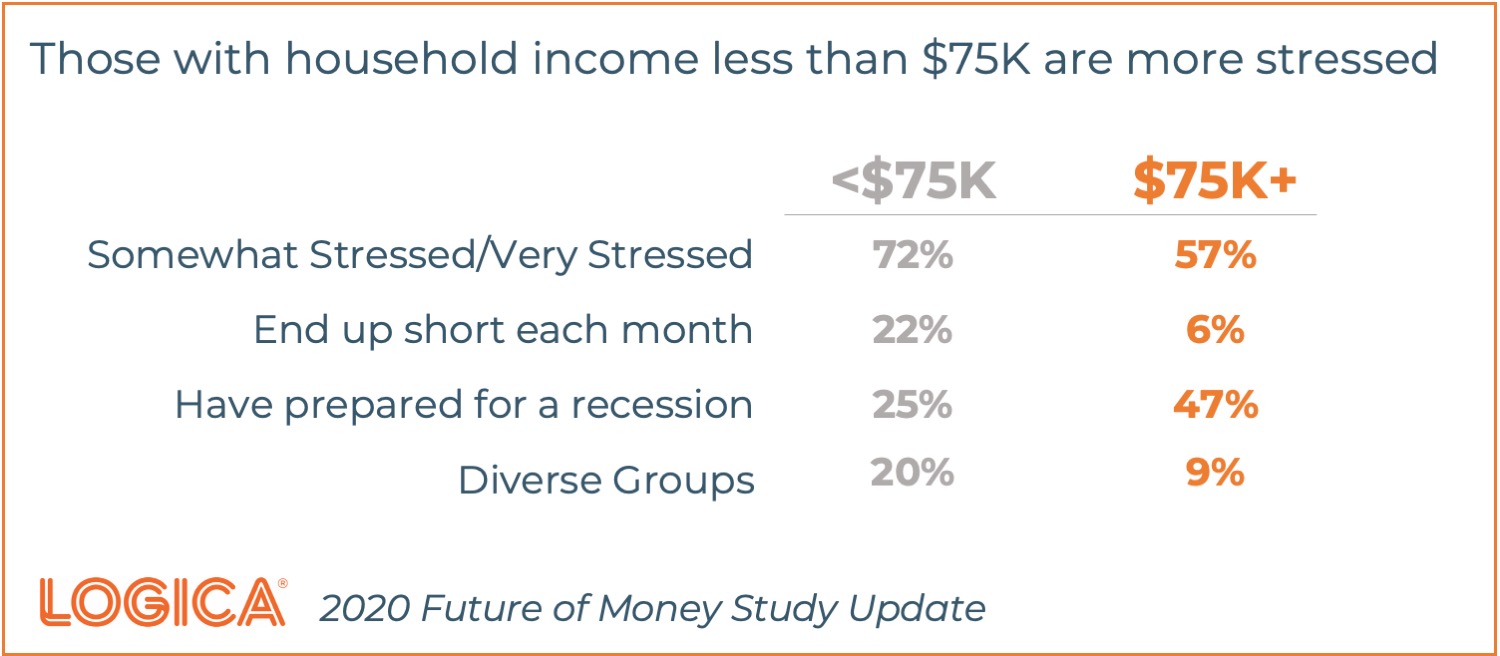 State of the American Worker: Women have been hit hardest
Financially, women are making 20% less than men overall—something our Future of Money study already indicates is a key stressor. In our recent State of the American Worker study, we examined the impact of the pandemic on childcare, work, personal finances, and life. The genders are divided across the board, women are reporting more negative impact from the crisis than their male counterparts. Women are more likely to feel overwhelmed, have trouble sleeping, overeat and feel depressed than men. They are also 10% less likely to feel optimistic about their personal finances in the next six months (44% women versus 54% men).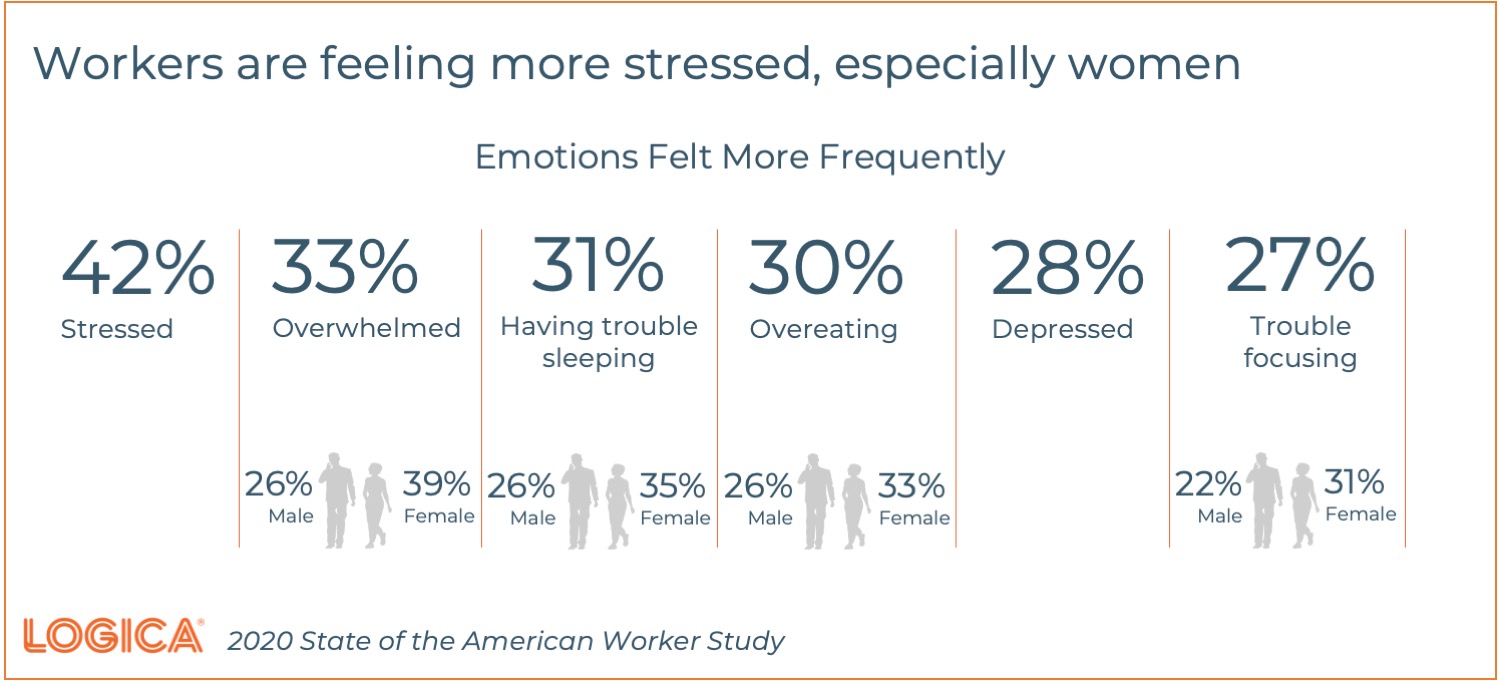 Practical advice for supporting stressed out customers
Continue to invest in a deep and timely understanding of your financial customers' rapidly changing needs.
Communicate, clearly and often, with the empathy that your customers are looking for right now.
Provide your customers with advice and guidance they are seeking regarding financial decision making.
Build tools to support customers' ability to engage and succeed with mobile money management.
To access the full reports, visit our Future of Money page, or go to our recently released State of the American Worker study.
About the Logica Future of Money Study, Summer 2020
The newest insights in this special report are based on data collected from a nationally representative group of 1,000 American adults balanced on gender, income and generation. An additional 200 older Gen Zers (age 16-23) were also included for generational comparisons. Qualitative insights were provided by partner KNow Research. First fielded from April 8-14, this update was conducted July 8-14, and the results illustrate how people have continued to change their approach to making, spending, saving and investing money.
About the American Worker Study 2020: Impact of COVID-19

The American Worker Study 2020 was conducted by Logica Research in partnership with InnovateMR sample and fielding. The study was conducted online from May 20th to June 2nd, 2020, among 1,000 American workers 25-65 years old, who are working or were laid off or furloughed due to COVID-19. The study excludes frontline workers. This study was conducted in collaboration with some of Women in Research's WIRexec program members: Lisa Wilding-Brown of InnovateMR, Brin Moore of Trusted Talent, Katrina Noelle of KNow Research, and Heidi Dickert, Consultant. This study was conducted in parallel with a study of the Women in Research community.