Future of Money Study: Top Three Insights for Financial Brand Engagement
How financial brands can connect to customers during COVID-19
Financial brands have had to pivot to meet the new realities the pandemic has brought to Americans' financial lives—new realities that mean changing expectations for financial brand engagement. Our latest Logica Future of Money Study has uncovered the top three things Americans are looking for from financial institutions right now:
Provide help and advice
Give them a reason to trust
Offer relevant communication

1. Provide help and advice
Americans are looking for help and advice from financial institutions that directly impacts their wallet. Help for the wallet comes in the form of eliminating fees (41%), providing higher interest rates on savings accounts (32%), and, at the same time, providing loans at lower interest rates (21%). Consumers may not recognize or understand this interest rate paradox and need help navigating options.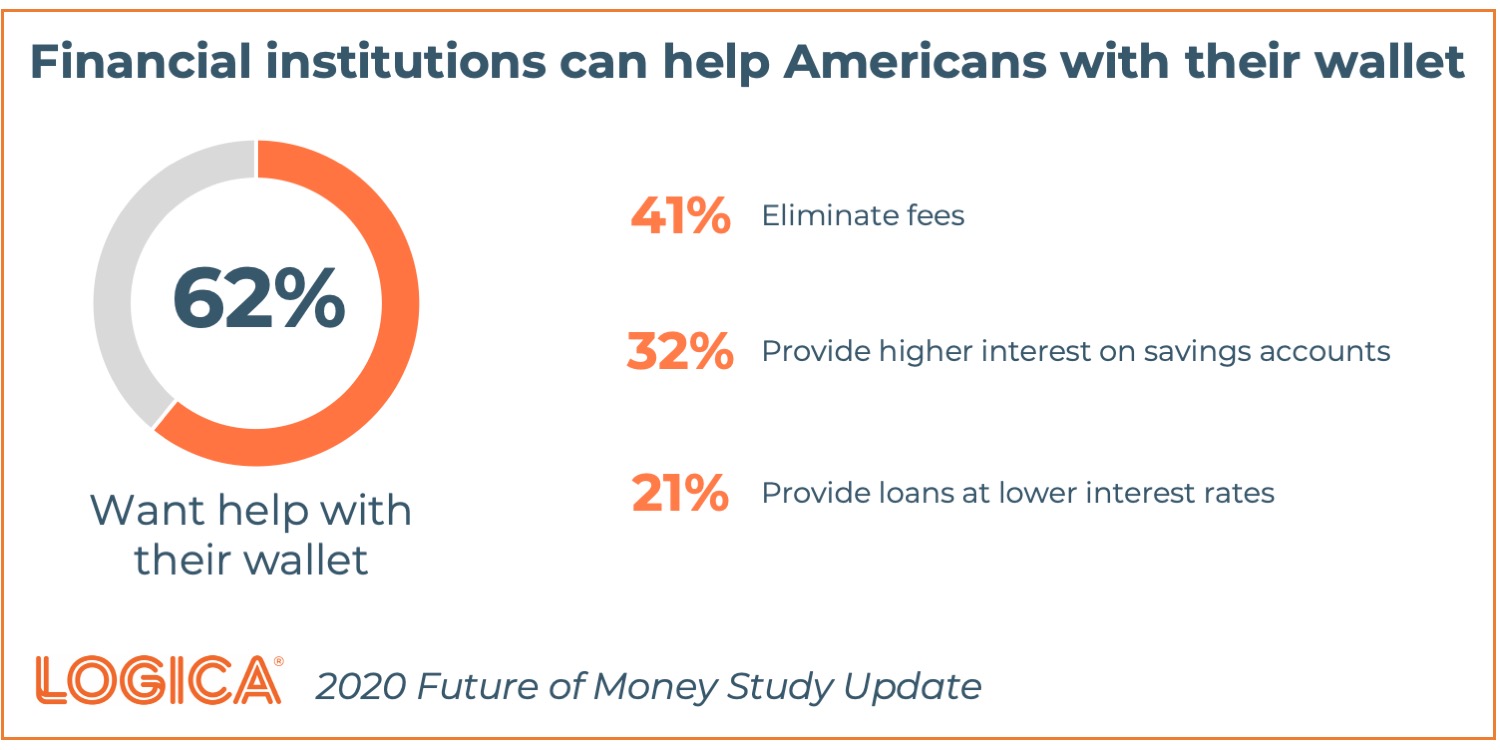 Americans need help understanding how to make the most of their savings and how to manage their money in a lower interest rate environment. In the spring wave of the Logica Future of Money Study, Americans were more focused on brands' community and employee support measures, whereas in the current summer wave they are looking for more direct help with budgeting and investing—while also wanting to receive excellent customer service.
2. Give them a reason to trust
During this time, Americans are looking to trusted people and trusted brands for help. Our Future of Money Study has uncovered changes in trust levels since the onset of the coronavirus. Americans are still turning to financial advisors, financial institutions, and friends/colleagues for trusted help, but their trust in the government, media/social media, schools, and employers has decreased significantly.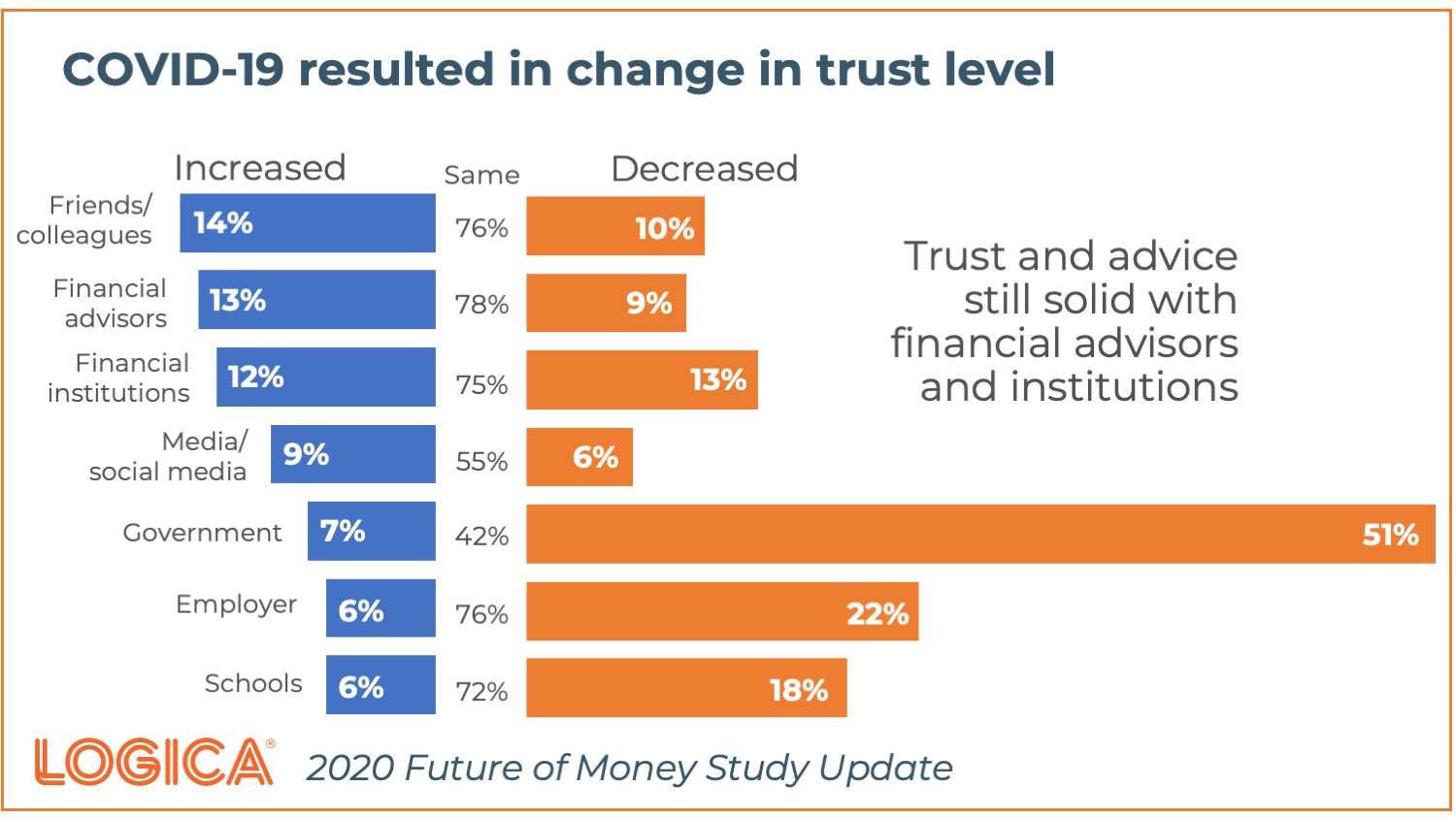 Understanding trust is key in creating communications that resonate, and to do this brands must listen to the voice of their customers and meet them with authenticity.
3. Offer relevant communication
Communicating during a pandemic is not easy, as customer expectations and realities are constantly changing. It is vital for brands to keep in step with customers so that communications can be relevant, empathetic and targeted. Brand actions must also be spot on, since Americans are really watching what brands are doing—not just what they are saying. In this wave of our study, we partnered with KNow Research and collected qualitative feedback, and customers let us know what they like and don't like to hear right now.
"I'm so tired of hearing 'we'll get through this together' kind of thing. It seems like it's become more of an advertising cliché than reality anymore."
"Have compassion and a little understanding that people are affected in different ways. See your customers as a person."
Our research on the Future of Money has shown that Americans are having very different experiences during COVID-19, so gaining a deep understanding of your customers' needs and wants is essential. Through this understanding, brands can determine how best to help and communicate with their customers.
Key Takeaways
Americans are at an inflection point when it comes to personal finance: the need for personal finance is on the rise. Fully understanding your customers' unique needs and perceptions is vital to hit the right tone and offer the right help.
Not all customers are feeling the same during this time. Gaining insight into proper segmentation of your key audiences will make reaching them more effective. It's likely time to revisit your customer segments and make adjustments.
Don't stop communicating, but also, don't stop doing. Customer communications should support action. Both communications and actions may need to be rapidly adjusted as the world rapidly changes for people.
Each week this month, we will post a deep dive into a segment of the new Future of Money study results. You can view the entire Future of Money report here.
You can also take a deep dive into employment trends and job satisfaction as the pandemic continues by checking out our recently released State of the American Worker study here.
About the Logica Future of Money Study, Summer 2020
The newest insights in this special report are based on data collected from a nationally representative group of 1,000 American adults balanced on gender, income and generation. An additional 200 older Gen Zers (age 16-23) were also included for generational comparisons. Qualitative insights were provided by partner KNow Research. First fielded from April 8-14, this update was conducted July 8-14, and the results illustrate how people have continued to change their approach to making, spending, saving and investing money.