The novel coronavirus pandemic has impacted behaviors and attitudes across the board, including how we work, spend, and manage our finances.
The Logica Research Future of Money study reveals important metrics so you can understand the changing consumer mindset surrounding money. To help companies understand financial behavior in the midst of the crisis, Logica Research is publishing a series of snapshot reports that will quickly highlight money-centric insights for deeper audience understanding. In this first report of the series, we examine the impact of COVID-19 on work and income.
Americans tell us that the Coronavirus will have the biggest impact on how they work (46%) vs. how they spend (30%), how they save (18%) and how they invest (6%).
Almost two-thirds (67%) of working Americans say their work has been impacted, with over half (54%) of those impacted saying that they are working fewer hours and one third (33%) say they are no longer working. Three in ten of those negatively impacted have been laid off (17%) or furloughed (13%). Just over one in ten (13%) say they are working more.
Almost all (90%) of those with hours reduced or their jobs eliminated expect to continue to work at their primary source of income after the crisis.
Retirement plans have also been impacted. Just over a quarter (26%) of working Americans are planning on postponing retirement, while 3% plan to retire earlier than expected. Four in ten (40%) of working Americans are unsure as to whether they will retire at the same time they planned to before March 15th.
The Coronavirus will have the greatest impact on how people work, compared to how they spend, save, or invest:
Two-thirds of working Americans have had their employment directly impacted by the novel Coronavirus:
Almost all of those whose jobs have been negatively impacted by the new Coronavirus expect to return to their jobs:
Working Americans are split on impact of COVID-19 on retirement timing: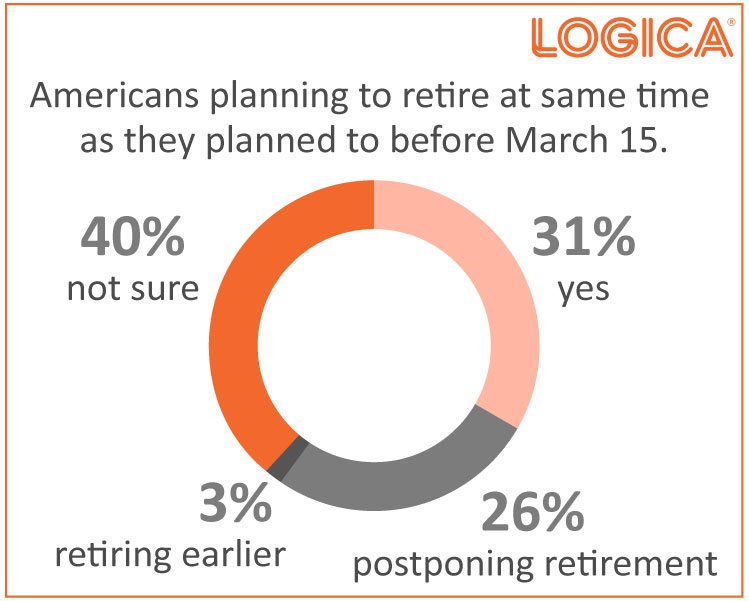 Key Takeaways
Working Americans are experiencing a monumental shift in how technology is impacting their work right now, far outweighing the impact of technology on how they spend, save, or invest money.
Working Americans also are optimistic about being able to return to their primary way of earning money when the crisis has passed.
Retirement is likely to get pushed back for many.
Each week, a new snapshot of results from the study will be released. To hear more about the study, what's coming up, and schedule time for a full presentation, email lraynor@logicaresearch.com.
About the Logica Research Future of Money Study
The Future of Money Study is designed to provide insights to organizations to help improve people's financial lives. Logica Research has been conducting the semi-annual Future of Money Study since the Spring of 2017. The focus of the study is to understand the consumer mindset around how people make, spend, save, and invest money. The insights are based on an online survey of 1,000 U.S. Adults 18 and over, balanced on gender, income, and generation and 200 older Gen Zers (16-23), not included in total. Results are not weighted. Gen Z defined as age 16-23, Millennials as age 24-39, Gen X as age 40-55, Boomers as age 56-74 for 2020. The study was fielded April 8-13, 2020.